CLOSED LOOP
- Servo & Motion
THE MOTION SOLUTION – ACTIVE NEXT GENERATION SERIES
SERVO & MOTION CONTROL DRIVE
CLOSE LOOP & SENSORLESS CONTROL
ACTIVE NEXT-GENERATION
High-end solution in automation
This drive system leaves nothing to be desired in the servo & motion world. Thanks to its versatile servo and motion functionalities, the user can implement his applications in a targeted and simple manner. The ANG offers many different connection options to a wide variety of real-time communication protocols, so that the drive can communicate with all common controls.
Consistent future technology in 6 compact frame sizes from 0.25 KW to 400 KW.
Especially for applications in the technology sector of CNC machining centers, f.e. for wood, metal, aluminum, plastic or ceramic processing, the ANG offers innovative application functions like f.e. the spindle control function with tool change positioning.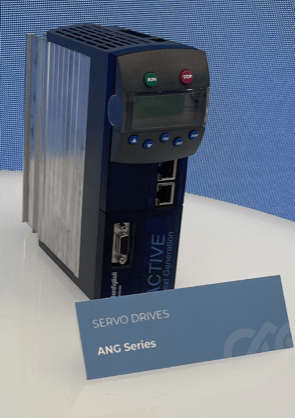 Technical Details:
Voltage Supply ………… 1-3 ph. / 230 V & 3 ph. / 400 V
Power Range ……………… 0,25 KW – 400 KW
Protection Class ………………………… IP 20
Output Frequency ………… up to 1800 Hz
Switching Frequency …………… 2 – 16 KHz
Overload Capacity …………… 150 % for 60 Sek. & 200 % for 1 sec.
Special High-Speed-Software
Motion & Servo
Functional Safety …………… Safe Torque OFF
For further technical details as well as expert advice and design specifically tailored to your requirements, please fill out the form below.